== Apocalypse: 2012 ==
Made by Anthony Rafanello Iran and Pakistan form up to launch a preemptive strike on the middle east starting WW III!
Nato Alliance vs Russian-Sino-Arab Alliance
Play as United_States,China,NATO,Russia,India,DPRK,SEATO,Arab_League,Japan,Brazil,Bolivarian_Alliance or Indonesia
Based on real world military numbers in 2012
1 Infantry = 50000 men
1 Tank = 500 tanks
1 Artillery = 100 Self Propelled Guns
1 Rockets = 100 MLRS Rocket Artillery
1 AAgun = 1000 AA Units
1 Carrier = 1 carrier
1 Cruiser/Destroyer/Corvette = 4 Cruiser/Destroyer/Corvettes
1 Transport = 4 Frigates
1 Fighter = 200 jets
1 bomber = 20 bombers
1 ICBM = 500 Nukes = 1 unlimited range weapon or factory strike
Stats from Wiki List of military units and
www.globalfirepower.com
Map from Domination edited to make for better 2012 play.
Units from ColdWar1965 with tweaks.
Units: aaGun Factory Infantry Marine Artillery Tank Helicopter Fighter FighterBomber NuclearBomber CargoPlane Transport Submarine NuclearSubmarine Destroyer Cruiser Corvette Carrier ICBM SR_Nuke Rockets
Nations: Arab_League India DPRK Japan China NATO Bolivarian_Alliance Brazil Russia United_States Indonesia SEATO Neutral-Sino-Soviet-Arab_Alliance Neutral-NATO_Alliance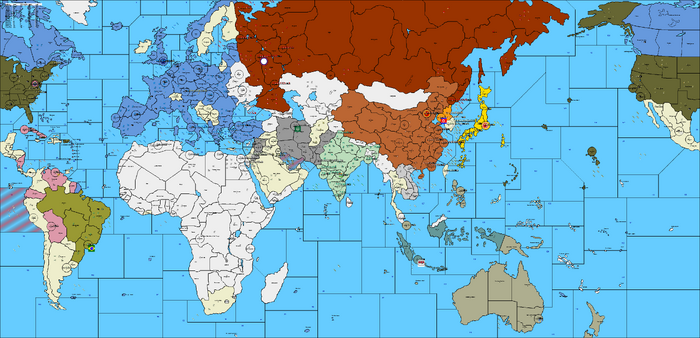 Community content is available under
CC-BY-SA
unless otherwise noted.