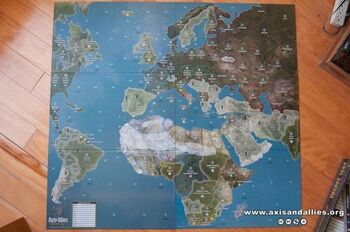 Axis & Allies Europe 1940 (AAE40) is a boardgame covering the European Theater, and is designed to link with Axis & Allies Pacific 1940 to form Axis & Allies Global 1940.
Description
The game starts with the conclusion of the Dunkirk evacuation. France is still in the war, but it will not last long; Italy is a separate nation. There are rules covering the entry of the US and USSR into the war. There is no provision for Vichy France.
The map covers Europe, the Middle East, all of Africa and the Western Hemisphere.