Type Historical
Scope World
Year 1942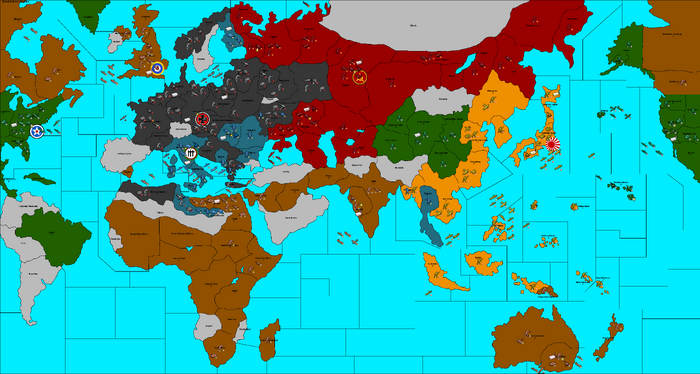 Blood and Iron is new scenario for Triple A. It is designed to be more historically accurate, more difficult, and more engrossing than the standard Revised Edition included with Triple A.
It is the sincere hope of the designers that game will be less repetitive than previous versions. The elements that contribute to this hope are a larger map with more possible strategies, and a deliberate emphasis on creating difficult choices for all players.
Experienced players are the target audience for this scenario. Players that find the original editions too complicated are not likely to enjoy this version.
Below is a list of the major changes from the Revised Edition:
Radically adjusted Industrial Production Certificates (IPC) to unit cost ratio New Map New Player (Lower Axis Powers) Relationship between land/air units and naval units fundamentally changed. Three new units introduced, three existing units altered. The following are links to detailed documents describing the changes and the rationale behind them.
Fundamental Changes The Map The Units The Major Powers

Players accustomed to playing new scenarios will likely be able to hit the ground running without reading the documents, but we still recommend reading through them as they will increase appreciation for the game and deliver a firm understanding of why each change was made.
Blood and Iron is currently in Beta Form. You are free to download it, but please report errors to bloodandiron@revere-systems.com

We also welcome comments and suggestions on balancing issues. (I.E. Lower Axis should begin with one extra infantry unit in Libya because . . . or bombers should cost one less IPC because . . .)

Current Version is 1.03
Road Map schedule to the general release

Alpha (Fathers Day 2008, June 15) Beta (Independence Day 2008, July 4) Beta update one (Tish B'Av 2008, August 10) Beta update two (Labor Day 2008, September 1) Beta update three (Columbus Day 2008, October 13) General Release (Veterans Day November, 11)